RIGHTFIBER DONATES BICYCLES TO NEWPORT AND BRINKLEY STUDENTS
JONESBORO, Ark. (March 30, 2023) – Ritter Communications, the largest privately held telecommunications service provider serving exclusively the Mid-South, announces a $6,000 donation to All Kids Bike, bringing bicycles and the Learn-to-Ride curriculum to kindergarten students in Newport and Brinkley. The donation was matched by Trailblazers through the Walton Family Foundation.
Ritter Communications recently launched its RightFiber® brand of services to both Newport and Brinkley. RightFiber® uses future-proof 100% fiber technology to deliver high-quality internet, TV and phone at the fastest gigabit speeds available.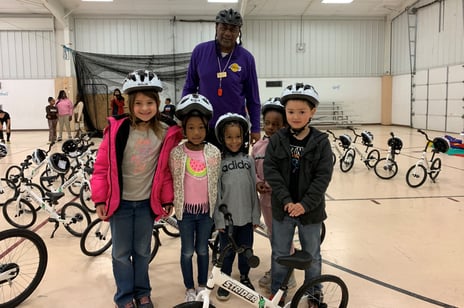 "Our commitment to do Right by You and give back to the communities we serve extends to people of all ages, especially students, whose education greatly benefits from the services we provide," said Ritter Communications CEO Alan Morse. "We are proud to make this contribution and bring students in Newport and Brinkley the opportunity to be physically active and engage with other kids in their local communities."
All Kids Bike is an initiative to teach every child in America how to ride a bike in their kindergarten physical education class. The program encourages students to spend time outside and explore their neighborhoods while promoting an active, healthy lifestyle.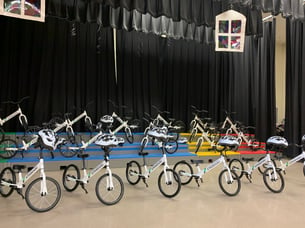 "Our program brings a healthy and active future to children across the country," said All Kids Bike Executive Director Lisa Weyer. "We're proud to have RightFiber® as our partner in bringing this program to these schools and appreciate their contribution to our mission."
Ritter Communications employees assembled the 48 bikes donated to students at Newport Elementary School and C.B. Partee Elementary School. Students received their bikes during individual school assemblies on Wednesday, March 29, and Thursday, March 30.
"RightFiber®'s generous donation is sure to have a lasting impact on our students and community," said Newport Elementary School Assistant Principal Misty Burgin. "The bicycles from All Kids Bike bring our students access to a bright, active future full of exploration and adventure."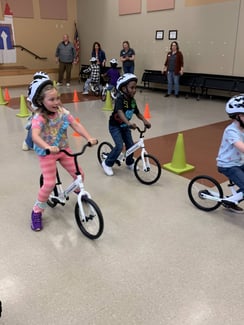 "We're grateful for this generous donation and the opportunity it brings our students," said Brinkley School District Superintendent Dr. Brenda Poole. "Biking is important for brain development and learning to ride a bicycle is a childhood milestone for many of us. Our students will now get that experience because of RightFiber® and All Kids Bike."
RightFiber®, the latest fiber internet service from Ritter Communications, offers the fastest, highest performing, symmetrical gigabit-speed available across Arkansas and West Tennessee. Learn more at Rightfiber.com.
###
About Ritter Communications: Ritter Communications is the largest privately held telecommunications provider serving exclusively the Mid-South, offering world-class broadband fiber, telecom, video, cloud and data center services. The company has grown rapidly over the years, investing millions recently in technology infrastructure and is now serving 123 communities and more than 47,000 customers in Arkansas, Texas, Missouri and Tennessee. Headquartered in Jonesboro, Arkansas, Ritter Communications invests heavily in the communities it serves by deploying proven, best-in-class infrastructure and technology, while coupling it with a world-class customer-focused experience. For more information visit RightFiber.com or RitterBusiness.com.
Media Coverage:
Telecom Ramblings: https://newswire.telecomramblings.com/2023/03/rightfiber-donates-bicycles-to-newport-and-brinkley-students/
Monroe County Argus: https://www.monroecountyargus.com/articles/1983/view
Arkansas Money & Politics: https://armoneyandpolitics.com/rightfiber-bikes-newport-brinkley/